The Diana is a small vessel with two decks and a unique charm and style. The friendly crew on board makes the cruise a thoroughly enjoyable experience. The ship is able to sail through many canals and smaller rivers because of the movable wheel house. This feature has reduced the height of the ship to the required 4 metres. The Diana can accommodate 78 passengers and is airconditioned throughout.


Cabins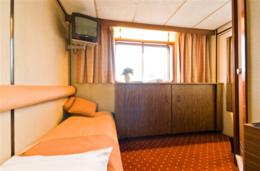 All 39 outward facing cabins have:
– air-conditioning,
– shower & toilet,
– satellite TV,
– twin beds and,
– a continental electricity socket (220 volts).
Lounge / Bar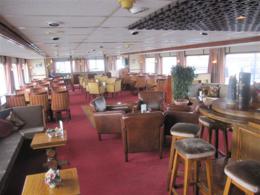 The Diana has a forward upper deck lounge with a bar, dance area and expansive windows.
The lounge of the Diana is partly renovated in the beginning of 2011.

Restaurant


The restaurant of the Diana is situated on the lower deck.
On all cruises on board the Diana you'll start the day with a buffet breakfast. On cruises in the summer you'll enjoy a three-course lunch and a four-course dinner with a choice in menu.
Deckplan

Click on image for larger version. Or download the PDF Version.