The Esmeralda offers a high level of comfort and a family atmosphere. The Esmeralda can accommodate 126 passengers on two decks and is airconditioned throughout. It has a lift between the promenade deck and main deck. It has a stair lift between the promenade deck and sun deck. It is a pleasure to relax on the partially coverd sun deck.


Cabins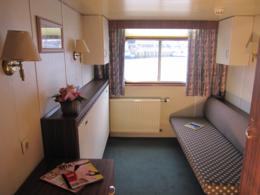 All 63 outward facing cabins have:
– air-conditioning,
– shower & toilet,
– satellite TV, safe deposit box,
– twin beds and,
– a continental electricity socket (220 volts).
Lounge / Bar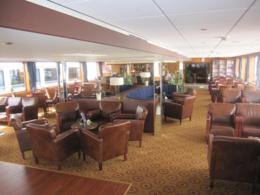 The Esmeralda has a spacious and inviting lounge. The bar and lounge of the Esmeralda is completely renovated in the beginning of 2011. Morning coffee and afternoon tea is offered each day in the lounge. The lounge of the Diana is partly renovated in the beginning of 2011.

Restaurant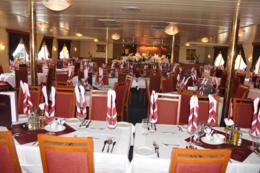 The restaurant at the front of the main deck can accommodate all passengers at a single seating. On all cruises on board the Esmeralda you'll start the day with a buffet breakfast. On cruises in the summer you'll enjoy a three-course lunch and a four-course dinner with a choice in menu.
Deckplan

Click on image for larger version. Or download the PDF Version.